Just like in a videogame
The first vehicle dynamics simulation center in Latin America has opened in the campus of Coração Eucarístico University in Belo Horizonte, Brazil. This exciting new facility is none other that the FCA SIMCenter. The center performs cutting edge research focused on the safety of vehicles, people and road systems
---
What is the best way to interact with the ever increasing number of devices on board the car? What catches the driver's attention the most and instead, what tends to cause distraction? How will a car's shock absorbers function in a specific driving scenario? These are only some of the many questions being answered by the FCA SIMCenter, the first vehicle dynamics simulation center in Latin America.
The SIMCenter, the first of its kind in the world, is located inside the PUC Minas Coração Eucarístico (Pontifical Catholic University), a no-profit private university in the state of Minas Gerais, in Belo Horizonte, Brazil.
It almost resembles a video game, but instead it hosts a wealth of the most advanced simulation technology. Virtual reality immersion is achieved by way of a platform that simulates all the movements of a real vehicle using nine actuators, a cockpit equipped with an audio system that reproduces the sounds of the engine and the reactions of the tires with the ground and a curved screen with a 230° viewing angle. The cockpit movements are integrated into the images shown on the screen and aligned with the commands performed by the driver, guided in real time by the control room instruments.
These simulations can help define the technical and functional features of each component that determines the dynamics of the vehicle: from shock absorbers to tires, steering, brakes and stabilizer bars. Once defined during the simulations, these features then become the technical specifications for the manufacturing process of the physical parts that make up the vehicle.
And that's not all. Using virtual reality means being able to test the vehicle even before it is manufactured. Indeed, the SIMCenter can evaluate, for example, suspension geometries or active safety systems in real time and in different scenarios, in a fully controlled environment, without using a test track.
But the spotlight is not only on simulating automotive systems. Using telemetric signals such as speed, acceleration, steering wheel angle, torque and engine power, a full analysis of the vehicle and the ecosystem into which it is inserted can also be performed.
Additionally, the technology applied in the SIMCenter offers the possibility of collecting data about driver behavior in different situations (for example fatigue, distraction or the effects of alcohol); man-vehicle interaction; vehicle ergonomics and even road infrastructure, as it can evaluate road signs and trails even before they have been built, always in a controlled, safe environment.
It is therefore an extremely important tool for research on the safety of vehicles, people and road systems. It will be used in partnership by professionals from the FCA group, teachers, students and researchers from different faculties, from engineering to medicine and psychology, to generate knowledge and innovation in the country. The SIMCenter is therefore a multi-disciplinary research facility that drives Brazil into a leadership position when it comes to developing the know-how and technologies to be used in the car of the future.
Watch the video on the SIMCenter: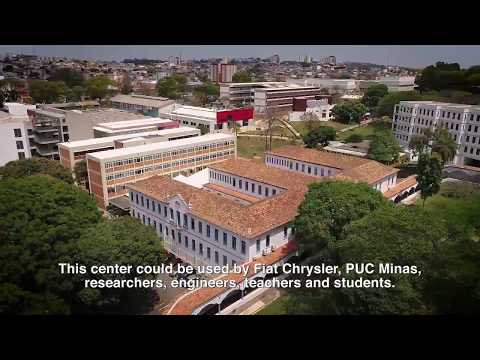 ---
---
Comments